Product Manager
Staff member
Joined

Dec 8, 2015
Messages

538
Points

93
Location
Website
Latest and stable firmware, version number is "GIT1_V1.20_20151013", released on 13th Oct.
http://www.gitup.com/support/firmware/git1/20151013/GIT1FW.zip
Change log:
1. Added: Support 720P 60fps
2. Improved: Auto exposure
3. Improved: Improved audio sampling rate to 44.1KHz
4. Improved: OFF front Red LED and ON Green LED then camera fully charged
5. Improved: Disable screen backlight after 1 minute while charging but enable backlight again if user press any button
6. Fixed: Recording with 3.5mm Female Microphone Adapter
7. Changed/Fixed: Text display issues
Below is the release history for Git1 firmware.
http://www.gitup.com/support/firmware/Git1_releasenote.txt
Earlier firmware:
1. Version number is "GIT1_V1.10_20150901", released on 1th September.
http://www.gitup.com/support/firmware/git1/20150901/GIT1FW.zip
2. V1.08 version, released on 16th July.
http://www.gitup.com/download/GIT1FW.zip
Git1 action camera upgrade instructions:
1. Prepare a micro SD card, format the SD card.
2. Download the firmware from above link, unzip the "GIT1FW.zip", copy the"GIT1FW.bin"file to the SD card.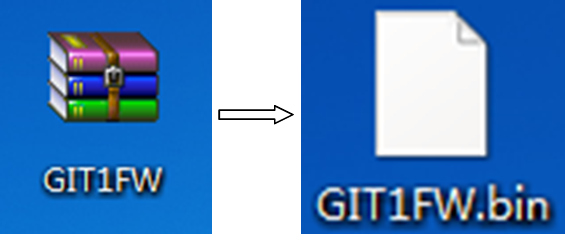 3. Insert the SD card to the camera card slot.

4.Connect the camera with USB charger to start the upgrade, then the photo status green light starts blinking(the light blinking slowly at the beginning, then blinking quickly), after the light stop blinking, it means upgrade is finished. (The whole process lasts about 30 seconds)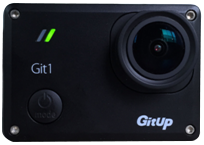 5.After upgrade, remove the SD card and delete the firmware, otherwise it will upgrade again when you power on the camera next time.

Then you can turn on the camera and switch to the setting mode to check the version of firmware.



Firmware upgrade step by step